Saturday May 19, 2012 09:37
05-12-12 The Wedding of Cori & Victor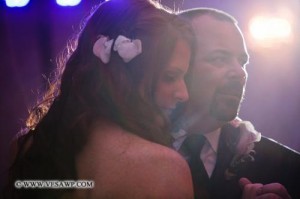 On May 05, 2012, Unlimited Sounds had the pleasure of being part of Cori & Victors Wedding at the Tomasello Winery in Hammonton NJ. We provided sound, along with our live piano player for the outdoor ceremony as well as the cocktail hour and DJ services and lighting for the reception. We also provided a wireless speaker setup for the outside area so guests could hear the music as they stepped outside onto the deck. Everyone had a great time! Below are some photos and video from Cori & Victor's big day!
"That DJ was awesome, best DJ I've heard at a wedding, even better than ours!!!! He played awesome songs" – Mandy
"We made the right choice! Thanks for everything Dave. You went above and beyond!" – Cori Forrest Cornwall
Here is some video we shot at the event with our iPad using STREAMZOO. We posted this to our facebook page while we were at the event!

*** Additional Photos can be found here ***